Reclaim Your Strength & Vitality with Personal Training from Get Age Fit
Strength training is vital for healthy aging. At Get Age Fit, we help you look and feel your best as you age with personalized personal training, group fitness classes, and nutrition counseling to fit your lifestyle and your budget.
Fitness from Age 35-45
Science tells us that our muscles start to deteriorate around age 35. During this decade, you may notice a decrease in your strength. But science also shows us that you can rebuild muscle strength by following a safe, effective, and scientifically proven fitness plan. They key to to start early and stay consistent.
Fitness from Age 45-55
If you haven't been strength training over the past decade, you may notice that your body is continuing to lose muscle mass and strength as you head into your 50s. The good news is it's not too late. You can fight the aging process with a personalized plan for cardio, nutrition, and strength training.
Fitness from Age 55-65
As you head into your 60s, your body will continue to naturally lose muscle mass and strength. And it continues over the next decade. But when you intentionally focus on building muscle strength, you can counteract these effects while increasing your energy levels and improving bone density.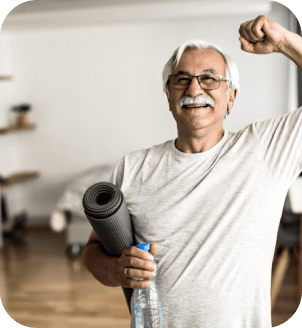 Fitness from Age 65-75
After age 65, personal strength training becomes even more vital. As the aging process continues, muscle loss leads to an even greater loss of strength which creates a higher risk of falls or chronic conditions. But strength training helps to maintain vitality, increase mobility, and reduce the risk of falls while improving cognitive functions and enhancing the overall quality of your life.
Introducing: Private Personal Training for Teens!
Get Age Fit is proud to announce the launch of our new youth program, "Training for Teens." We believe teens deserve an opportunity to learn how to strength train safely as their bodies grow and change through adolescence. So we created this program to help them build self-confidence and promote overall well-being while nurturing healthy habits and setting them up for a lifetime of physical and mental wellness.
Transform the Way You Look and Feel
at Get Age Fit in Georgetown, TX
Private Personal Training
Certified Personal Trainers
Semi-Private Personal Training
Age-Specific Workouts
Group Fitness Classes
Custom Fitness Plans
Nutrition Counseling
Like-Minded Community
Youth Program —NEW!
Shaken-Not-Stirred Smoothie Bar
8000 Square Foot Facility
Beautiful Outdoor Patio
Our track Record Speaks for Itself:
98% of our clients
stick with us after their first session, and they report feeling stronger and more confident in just three weeks.
Your Fitness Transformation Begins Here
Try us out with no obligation
The best way to experience the transformational power of our unique personal training studio is to give us a try.
Get a personalized fitness and nutrition plan
Our expert trainers will give you a customized fitness and nutrition plan to help you achieve your unique health and fitness goals.
Enjoy being AGE FIT for life
When you invest in your fitness and nutrition, you invest in being your best self as you age and living your best life at any age.
The Georgetown Gym You Can Trust Georgetown, TX

Get Age Fit gave my husband his life back!

The experience we had at Get Age Fit studio was truly life changing.

Get Age Fit is my perfect studio gym.
I have made huge strides here.
30,000 HOURS
Training clients in Georgetown, TX
10,000 CLIENTS
Have transformed their lives
7 YEARS
In service to Georgetown, TX
How can we help?
(512) 591-7817
info@getagefit.com